FEATURED COUPONS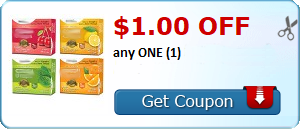 $1.00 off any Mama Lucia Meatball
$1.00 off ANY Chicken Steak-Umm
$1.00 off 1 Steak-Umm beef
$1.50 off any 1 Bronkaid Product
$1.00 off Neo-Synephrine nasal spray
$1.00 off Maybelline New York Eye Shadow or Liner
$1.00 off ONE GARNIER FRUCTIS Styling Product
$2.00 off ONE (1) GARNIER Moisturizer or Cleanser
$2.00 off ONE Maybelline New York Face Product
$1.00 off ONE Maybelline New York Lip Product
$3.00 off one Schick Quattro for Women Razor
$2.00 off ONE (1) Maybelline New York Mascara
$1.00 off ONE GARNIER FRUCTIS Hair Product
$4.00 off one Schick Quattro for Women Refill
REDPLUM
SAVE $1.00 on any TWO (2) Quilted Northern Ultra Soft & Strong® bath tissue, 6 double roll or larger
SAVING STAR
Save 20% on any single purchase of loose Bananas at participating retailers. See offer info for complete details. Check back every Tuesday for a new Healthy Offer..Expires 8/31/2015.Save 20%.
Save $1.00 on any ONE (1) Snuggle® product..Expires 10/15/2015.Save $1.00.
Save 100% when you buy ONE (1) 1.55 oz. HERSHEY'S® Milk Chocolate bar..Expires 8/26/2015.Save 100%.
SMARTSOURCE
$0.75 off When you buy Crab Classic or Lobster Classic, Any Size, Any Variety
HOPSTER
Save $0.75 off any ONE (1) Trans Ocean 8 Ounce Crab Classic (any style) or any ONE (1) 4 ounce Trans Ocean Hot or Cold Smoked Salmon
Save $1.00 on any ONE (1) Mt. Olive product . Unlock when you complete 1 Mt. Olive activity.
IBOTTA
Earn $10.00 when you purchase Spend $120 on LaneBryant.com
Earn $10.00 when you purchase Spend $100 on Quiksilver.com
Earn $15.00 when you purchase Spend $150 on Hotwire.com
Earn $0.50 when you purchase Ajax® All in One Dishwashing Detergent
The following two tabs change content below.
Brandy is the wife to a carpenter/musician and the mother of 3 amazingly awesome homeschool/unschooled girls. Brandy is a Photographer as well as a Coach for the Weebellion as part of Rolling Rebellion Jr. Roller Derby. Brandy is passionate about many things and suffers from a very painful and degenerative neurological disease called CRPS/RSD.
Latest posts by Girl on Fire (see all)