I just listed this cute little tote bag. Perfect for the kids and the adults as well. You could use it to throw some books in, use it to get your loot on Halloween, toys, whatever! Its covered in pumpkins, bats, spiders, and webs! It listed in my etsy now.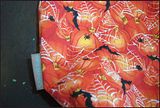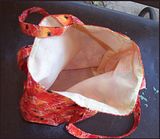 The following two tabs change content below.
Brandy is the wife to a carpenter/musician and the mother of 3 amazingly awesome homeschool/unschooled girls. Brandy is a Photographer as well as a Coach for the Weebellion as part of Rolling Rebellion Jr. Roller Derby. Brandy is passionate about many things and suffers from a very painful and degenerative neurological disease called CRPS/RSD.
Latest posts by Girl on Fire (see all)