This post brought to you by Sears. All opinions are 100% mine.
I kind of really don't like going shopping in stores. The mall…ewww…forget it. I would much rather shop online. Cool thing about that is, a lot of those mall stores have a better selection online than they do in store. Another cool thing? They will most likely have your size in stock! Sears makes it easy and has a huge selection of clothing brands, styles, sizes, colors…you name it!
Need it fast? Well, no problem! You can order online and schedule a store pick up! Sears guarantees to have your in store order ready for you in 5 min, or they will give you a $5 off coupon!
Did you know that Sears carries Ray Ban, Michael Kors, Dewalt Tools, Steve Madden, Nike, VInce Camuto, Tory Burch and many more? Yes, you can grab your tools and your designer clothing all in one place! Sears is commited to ensuring every customer finds exactly what they want. I think they have it covered!
I suggest starting with the featured marketplace offers. I'm currently shopping for a new camera and saw some great deals in the marketplace. A lot of savings! I also suggest checking out the newest arrivals. There you will find all the hot new seasonal items! We really need a new lawn mower and some other things to get ready for Summer!
I love Sears because it covers my whole family. Father's Day is coming up and I was impressed by the selection in the Outdoor Life. My husband is a fisherman and I want to find him some things he will get great use out of this summer. These Water Shorts would be fantastic for out on the boat! They are not swim trunks, they are shorts that are made to dry really fast. They are on sale for only $14.99! That is a 58% savings!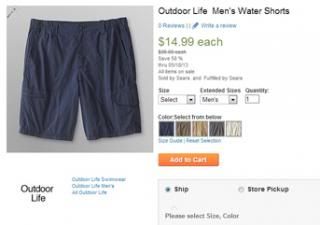 Or what about these great sunglasses? Jeremy is always wearing sunglasses! I love the red accents and again…check out the price! Only $15.60 on sale!
If you haven't visited Sears lately, what are you waiting for? Shopping made simple right at your fingertips! Be sure to click to tweet out this post to share with your friends so they can see what Sears has to offer!
The following two tabs change content below.
Brandy is the wife to a carpenter/musician and the mother of 3 amazingly awesome homeschool/unschooled girls. Brandy is a Photographer as well as a Coach for the Weebellion as part of Rolling Rebellion Jr. Roller Derby. Brandy is passionate about many things and suffers from a very painful and degenerative neurological disease called CRPS/RSD.
Latest posts by Girl on Fire (see all)