FEATURED COUPONS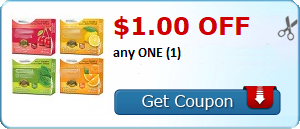 $0.50 off ONE Kellogg's Krave Cereal
$0.50 off ONE Kellogg's Apple Jacks Cereal
$2.00 off one Natrol vitamins and supplements
$2.00 off (1) Natrol Melatonin supplement
$2.00 off 1 Natrol Biotin product
$2.00 off any one Certain Dri Product
$1.00 off 1 Nutri Dent 3 Point Edible Dental Chew
$1.00 off 1 Healthy Edibles Wild Edible Dogs Chews
$0.75 off any three Canine Carry Outs dog snacks
$0.75 off (1) small bag of Meow Mix Dry Cat Food
REDPLUM
CALL 1-877-838-3461 No equipment to buy & No start-up costs! No need to print, just call today!
SAVING STAR
Save 20% on any single purchase of loose, unwrapped Lettuce at participating retailers. See offer info for complete details. Check back every Tuesday for a new Healthy Offer..Expires10/26/2015.Save 20%.
SMART SOURCE (CANADA)
Save $1.50 on any Dove Female Body Wash
HOPSTER
$1 OFF Hyland's 4 Kids Bumps 'n Bruises with Arnica, available at select Target® stores
when you buy ANY One (1) Hershey's® Shelf Stable 8oz Milk (3pk or 6pk)
$0.75 OFF any ONE (1) Superberries® Brand Product
$1.50 OFF any ONE (1) Dominex brand product
on ANY ONE (1) package of Ronco® Pasta
IBOTTA
Earn $5.00 when you purchase Spend $40 on 1-800-Flowers.com
Earn $0.50 when you purchase TruMoo® Flavored Milk
Earn $0.50 when you purchase V8 V-Fusion®
The following two tabs change content below.
Brandy is the wife to a carpenter/musician and the mother of 3 amazingly awesome homeschool/unschooled girls. Brandy is a Photographer as well as a Coach for the Weebellion as part of Rolling Rebellion Jr. Roller Derby. Brandy is passionate about many things and suffers from a very painful and degenerative neurological disease called CRPS/RSD.
Latest posts by Girl on Fire (see all)