This post brought to you by Honey Bunches of Oats. All opinions are 100% mine.
My girls prefer cereal for breakfast on most mornings. This is fine by me because this is something they can all prepare for themselves! We recently were able to try Honey Bunches of Oats Morning Energy. We were sent two flavors, which were Cinnamon Crunch AND Chocolatey Almond Crunch.
Honey Bunches of Oats has always been a favorite of mine. I love to have cereal as a snack at night. I can have it with milk and sometimes I even eat it dry. Seriously, cereal is usually my snack of choice and a cereal like this does not make me feel guilty.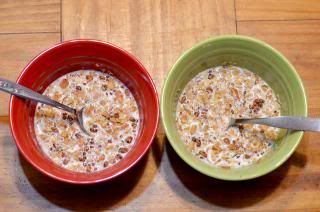 I love chocolate, I would have to say that the Chocolatey Almond Crunch, while the Cinnamon Crunch was a close second! Both were delicious and my children agreed! I love the crunchy bits! It's nice to not have your cereal get instantly soggy in your milk.
I know, I know….you see sweet flavors in a cereal and you think it probably isn't so good for you. Well, check this out… in each serving you get 6 grams of protein and 5 grams of fiber as well as 33 grams of whole grains! This will help you get your get up and go each morning and keep your energy!
Be sure to like Honey Bunches of Oats on Facebook as well as follow them on Twitter.
So which flavor are you looking forward to trying?
The following two tabs change content below.
Brandy is the wife to a carpenter/musician and the mother of 3 amazingly awesome homeschool/unschooled girls. Brandy is a Photographer as well as a Coach for the Weebellion as part of Rolling Rebellion Jr. Roller Derby. Brandy is passionate about many things and suffers from a very painful and degenerative neurological disease called CRPS/RSD.
Latest posts by Girl on Fire (see all)