Whenever you've had a hankering to put up a shelf or if there's a crack in the wall that needs fixing, you might have felt the urge to do it yourself. Some of those jobs sound simple, right? Not if you have a history of failed attempts at home improvement! DIY is hard to master, and it's easy and expensive to make mistakes.
Reports show that DIY disasters cost our pals across the pond £138, which is close to $200 for each household every year. After reading that article, I didn't realise that botched DIY could be so expensive. I've tried a little myself, and it's not always gone to plan – loose screws, uneven shelving: you name it. Sometimes, it's best to get help elsewhere, whatever your misgivings may be. I wonder though, what the estimate would be over here – and being that it could potentially save a couple hundred per year, it might be something to look into…
Common mistakes in DIY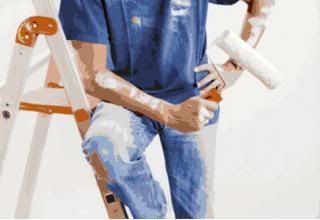 When doing a little home improvement, it seems that the same mistakes happen. No matter how well you think you have prepared, there's probably something you missed! This does happen a lot, especially when painting. Only applying one layer and doing it unevenly can be expensive, forcing you to stick with it or hire a professional.
Two other common DIY mistakes are underestimating the time and money involved and using the wrong tools and materials. Sometimes, it's expensive to carry out home improvement on your own, and getting the cheap stuff doesn't help. It also takes plenty of time to get a paint job right too. Using the wrong tools and materials is also a big no-no!
A little assistance
Getting a professional contractor to do the job for you might seem defeatist, but you want your home to look perfect. A tradesman over at LocalTraders shared a similar sentiment:
"Although the figure is only represents a fraction of a households disposable income, it's still a substantial sum considering the amount of households it pertains to. In the current economic climate it is important to make savings where you can of course, however, if you know your skills in a certain department is limited or you've got no experience with the task whatsoever – then it is probably best to call in a professional. Tasks such as plumbing work; boiler and appliance installation or rewiring in particular should always be done by a qualified plumber or electrician".
He also concluded that a failure to get these types of repairs correctly the first time would outweigh the cost of getting a professional to do it, not to mention the hazard of using power tools without proper safety measures.
The post above has been a PR collaboration and is not written by me.  Please read my full disclosure policy.
The following two tabs change content below.
Brandy is the wife to a carpenter/musician and the mother of 3 amazingly awesome homeschool/unschooled girls. Brandy is a Photographer as well as a Coach for the Weebellion as part of Rolling Rebellion Jr. Roller Derby. Brandy is passionate about many things and suffers from a very painful and degenerative neurological disease called CRPS/RSD.
Latest posts by Girl on Fire (see all)