Now before I get too far into this post I want to tell you that this is about an adult store.  I debated a bit before doing another post.  I don't want my readers to think I'm some dirty freak.  Thing is…there are things that EdenFantasys has that can be a great benefit to wives and their husbands.  What a husband and wife does is between them.  It's personal.  Besides that, I already know yer doing it and you already know I'm doing it.  It's part of marriage…it's how I got all of those beautiful kids.
I wanted to point out that EdenFantasys is a lot more tasteful than I thought an adult store could be.  They have so many things for couples, such as lingerie!  What man doesn't want to see his wife in something sexy? If you don't wear lingerie, you may want to give it a try.  It will make you feel good too!  If you feel sexy then it makes the night that much better for you as well as your husband.
They also carry candles to bring some romance to the bedroom!  I actually have a candle from EdenFantasys and it's a quality candle!  I love candles!
I'm actually interested in the Massage therapy kit.  You can sample several blends in this one kit. They are infused with natural essential oils.  Sounds pretty awesome.  The trick will be getting Jeremy to actually give me a massage! Other things that have caught my eye are the Sliquid Splash, a gentle girlie cleanser.  Soap can be a bit harsh for us ladies!
Oh and if you're pregnant they have things for you too!  They have Blooming belly balm and Breast balm.  See, it's so much more than a "sex store"!  Check it out for yourself!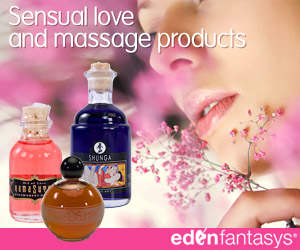 I'll be recieving a gift code for sharing another side of EdenFantasys (I'll be getting the massage oil!).  All opinions are my own.
The following two tabs change content below.
Brandy is the wife to a carpenter/musician and the mother of 3 amazingly awesome homeschool/unschooled girls. Brandy is a Photographer as well as a Coach for the Weebellion as part of Rolling Rebellion Jr. Roller Derby. Brandy is passionate about many things and suffers from a very painful and degenerative neurological disease called CRPS/RSD.
Latest posts by Girl on Fire (see all)