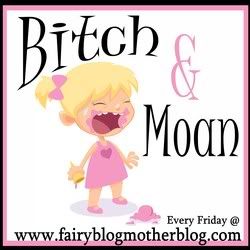 Annette from Fairy Blog Mother Blog has started a new Meme called Bitch & Moan Friday.  Yea, I totally think I can get in on this one.  Be sure to join her by linking it up on her post and grabbing her button!
So here goes:
I get pissed at people that have drama seeping through their pores.  I have enough stuff going on in my life with out "forced drama".  Forced drama being something that you cause for yourself.  Stop it already!
I get annoyed by people that assume everything written on the net must be about them. If someone sets their status to "I'm Pissed", why would you just assume they were pissed at you?  Maybe they are just having a rotten day…but, if you have a guilty enough conscious to assume it is you, then maybe they should be pissed at you!  By the way…this post may or may not be about YOU.
I am aggravated by people that don't have real problems, but complain like they do. You know the ones…"oh I don't have $100 to buy this purse…life sucks!" Seriously?  Shut the hell up!
I hate it when people don't listen to me…you should know by now…I am always right!
The following two tabs change content below.
Brandy is the wife to a carpenter/musician and the mother of 3 amazingly awesome homeschool/unschooled girls. Brandy is a Photographer as well as a Coach for the Weebellion as part of Rolling Rebellion Jr. Roller Derby. Brandy is passionate about many things and suffers from a very painful and degenerative neurological disease called CRPS/RSD.
Latest posts by Girl on Fire (see all)