For those of you out there that are just hearing about this tribute concert; let me bring you up to speed……
Saturday, August 30th @ Lonestar Country Club in Coppell, 10 bands, a legion of friends, supporters and music lovers will gather for a full night event to remember and honor the legacy of the late Ben Cooksey who passed away July, 4th 2008. Ben was an accomplished musician who played in several great bands such as Roller, RPB, and Hit & Run. Ben was also part owner of Lone Star Tattoo with his brother, Scott Cooksey.
Ben was a true friend to those who were fortunate enough to have him in thier lives. He was a great son, an awesome uncle and a trusted brother. He was truly one of those guys that would give his shirt off his back if need be.
The concerts proceeds are going toward a monument that will landmark Bens presence in this world. We are encouraging everyone to reach out and support this event.
Even if you didnt know Ben we are inviting you to join us to experience an unforgettable night!
We have 10 bands that are ready to rock and that's what these guys do best!! This is a powerhouse line-up that will guarantee to host one hellacious party….BC STYLE!!
Doors open at 4pm. First band starts between 4:30-5:00 and we'll roll till 2am.
Over 21 – $10
Under 21 – $15
See you at the show!!!!!
Tell a friend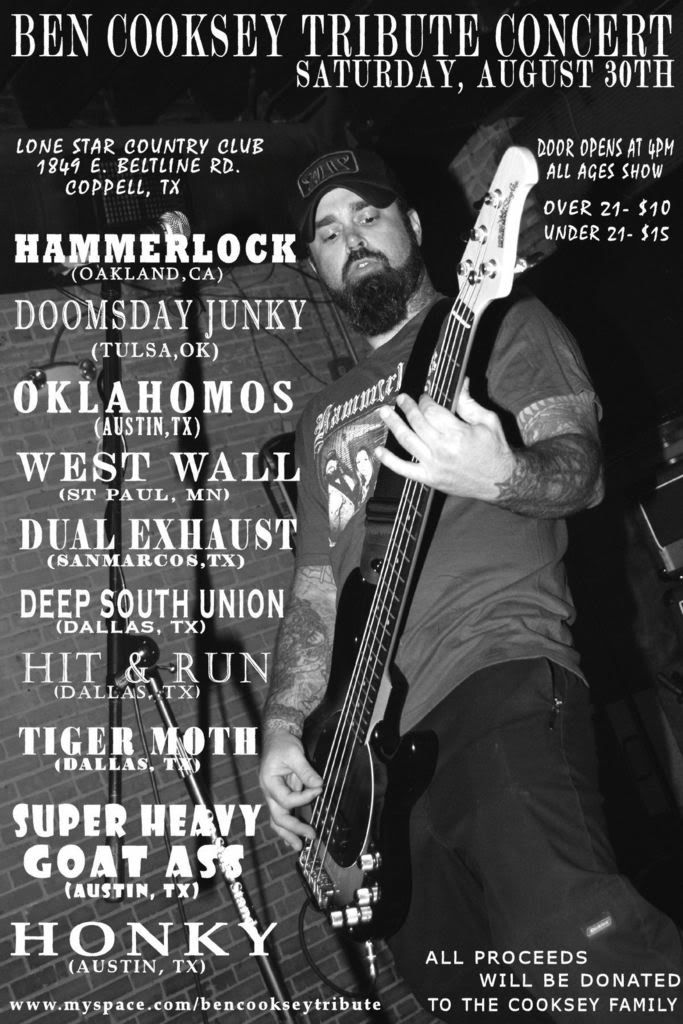 The following two tabs change content below.
Brandy is the wife to a carpenter/musician and the mother of 3 amazingly awesome homeschool/unschooled girls. Brandy is a Photographer as well as a Coach for the Weebellion as part of Rolling Rebellion Jr. Roller Derby. Brandy is passionate about many things and suffers from a very painful and degenerative neurological disease called CRPS/RSD.
Latest posts by Girl on Fire (see all)